The Leading Siberian Husky & Registered Breeder in South Carolina!
Inspected And Certified
Do Your Homework On Breeders, There Are Lots Of Scams Out There!
If It Looks Too Good To Be True Leave It Alone,
These Scammers Will Get Your Money And You Want to Get
That Fur Baby You Wanted !!!
Welcome to Loyal Siberian Huskies. We are the leading Siberian Husky & Registered breeder in Hamer, South Carolina. At Loyal Siberian Huskies, we have a family legacy steeped in tradition. Our expert breeders have been raising and nurturing purebred Siberian Huskies since 1992. At Loyal Siberian Huskies, caring for Siberian Huskies is not only a profession but a way of life. Each of our staff members shares a passion for the care of animals, and that passion is exhibited with each, and every Siberian Husky we breed. We offer the perfect combination of integrity, professionalism, and high-quality dog breeding.
Our core philosophy is that each dog is a precious gift of love and a lifetime commitment. Therefore, we take our breeding responsibilities seriously. We take every measure to ensure that our dogs are raised in a prime environment so that optimum dog breeding can occur. We have strict control in place to make sure that our facility and our dogs meet the highest standards of inbreeding. Our dogs are thoroughly examined for health issues before being sold to any family.
A Siberian Husky Breeder You Can Trust
As passionate dog lovers, we get it. One of the toughest aspects of finding the perfect dog for your home can be finding a good breeder. You want a dog that is happy and healthy. Yet, you also need a dog that meets regulations. Don't worry. At Loyal Siberian Huskies, each of our Siberian Huskies for sale is AKC-registered and GUARANTEED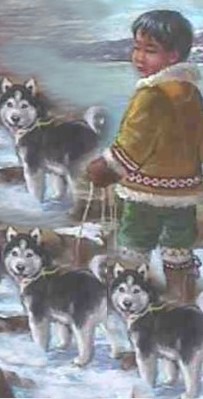 Top Purebred Siberian Huskies
You will never have to worry about the conditions that your Siberian Husky has been in. At Loyal Siberian Huskies, our goal is to make sure each purebred Siberian Husky lives a fulfilling and jubilant life. We provide an expansive space of 67 acres for our beautiful Siberian Huskies to roam, explore and play in. Every Siberian Husky puppy for sale is given individual care and attention. To raise them to be happy and healthy, we must cater to the puppy's specific needs, allowing them to grow to their fullest potential
Animals bring some of the greatest joy we can ever imagine. Our purpose is to help spread a little bit of that joy, to each customer we serve. At our facility, we believe you don't just bring home a puppy, you bring home a family member.
---